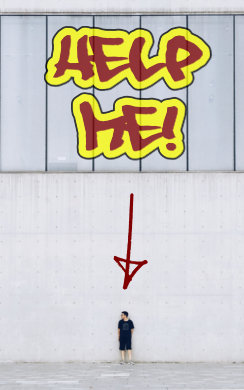 We provide support in a way that suits you and your business needs.
All our packages are invoiced monthly, and there is no minimum term.
Proactive monitoring of computers
Regular maintenance, to avoid unexpected problems*
We make a point of looking at your whole office setup and working out practical ways to make it more reliable, secure and cost-effective.
The Full Support package:
Scenes like the one at right needn't happen! For a fixed monthly fee, we provide Unlimited Remote support and Call-outs to your premises.
Whatever you need help with, if we can't do it remotely, we'll come out. Like the remote support package, we will perform routine maintenance, checks and monitoring to keep your systems running optimally. Unlike the young man in the photo, with our Full Support package you're never on your own.
We also offer:
* Regular maintenance is chargeable on the pay-as-you-go plan.