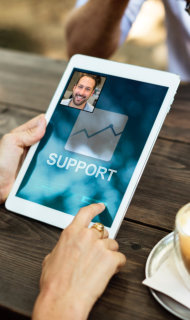 We provide support in a way that suits you and your business needs.
All our packages are invoiced monthly, and there is no minimum term.
Proactive monitoring of computers
Regular maintenance, to avoid unexpected problems*
We make a point of looking at your whole office setup and working out practical ways to make it more reliable, secure and cost-effective.
The Remote Support package includes:
For a fixed monthly fee, we provide unlimited on-demand remote support for your entire company. Whether it's a file that won't save, a new email address needed or just a query about Excel, we're there to help. We also perform routine maintenance and continuous monitoring to keep everything running smoothly.
We also offer:
* Regular maintenance is chargeable on the pay-as-you-go plan.