For a couple of years now a type of Malware known as has been infecting computers. The attack encrypts data files on the PC and any server files available to that PC/User. It then demands a ransom to decrypt them and this varies from £500 to £10,000 or more: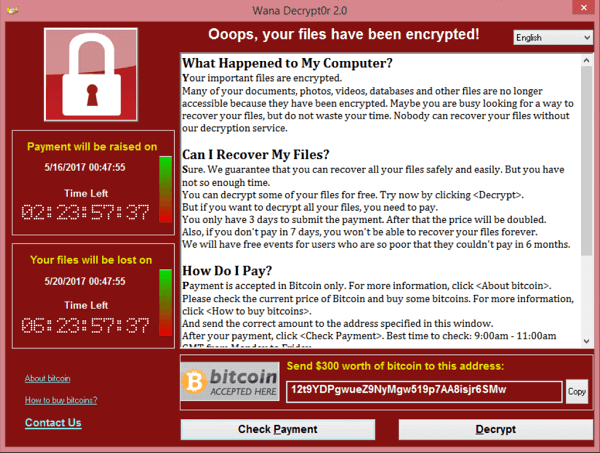 The most common attack method for this is email. Typically the emails will claim to contain an invoice for you to open, or will have a link to a website for you to track your delayed parcel. All the Anti Virus programs are struggling to keep up as the Ransomware developers keep changing the code so that deduction is close to impossible.
Please make it a policy in your business not to open any email attachments or click on any links in an email unless you are 100% sure its from a legitimate source. If the file is a zip file do not open it but ask the sender to resend without zipping the file up.
If you are infected you will either have to restore from your backups (you do have backups don't you!) or pay the ransom without any guarantee that even paying up will get your files back. If you use a cloud file system please be aware that most cannot recover from this kind of attack. We can recommend a cloud file system that will let you recover if this applies to you.
To prevent the enormous damage an attack like this can have on your PC and your business, always make sure you have a full, recent backup and ensure above all that you have System Restore running on the important data drives of your PCs. Please be aware that some installations of Windows 10 do NOT have System Restore enabled by default (only the great gods Odin and Zeus know why this is), so please double-check your drive settings.
As always, if you're not sure, contact us!